There is nothing more important than your baby's safety. You don't want to compromise with it, even if it means spending a few extra bucks. Purchasing a stroller is a crucial decision to make, as your baby's well-being depends on it. It is similar to buying a car where you need to prioritize safety and comfort. As such, you'd always want to get your baby the best baby stroller from the ones available in the market.
CHECK THE TOP 10 BEST STROLLERS NOW!
Baby strollers are not exactly cheap, so you need to think about long term while purchasing them. There are several models available from reputed brands, and choosing a single product from among them can sometimes make you anxious.
We have created this buying guide to help you pick the perfect stroller. Here, you can find a list of some of the best baby strollers available in 2020, along with some buying factors that will help you out.
Top 10 Best Baby Strollers
1. Baby Delight Go With Me Dart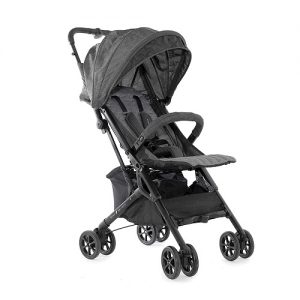 If your baby's comfort is your topmost priority, then this Go With Me Dart Ultra-Compact Stroller might just be the best baby stroller for you. Your baby will always feel comfortable in the cushioned seat, and there are expandable leg rests, that mean there will never be a dearth of space for your little one.
Additionally, this stroller has a 5-point harness system that will keep your baby secured to the stroller. So, in case of any impact or accident, no harm will come to your baby. Under the stroller, you will find a storage basket where you can keep your belongings while you are out shopping.
There is a large sun canopy that comes with this stroller, which protects your baby from the heat of the sun. The canopy is retractable and has a peek-a-boo window through which you can keep an eye on your baby at all times. Steering this stroller is a breeze, as you can easily bring it to a stop using the foot brake located near the back wheel.
This stroller is perfect for traveling, as it weighs only 12.5 lbs, and you can fold it in seconds using only one hand. It is lightweight and compact and easily fits into a bag.
You can also carry it through the airport as well, since it meets the Transportation Security Administration (TSA) standards. Furthermore, there is a small additional pocket on the back of the stroller where you can store some snacks, your phone, and other small items.
Pros
Compact and lightweight build
Retractable canopy
Lots of storage space
Cons
Takes a bit of effort to open for the first time
Difficult to lower the footrest
2. Britax B-Lively Double Stroller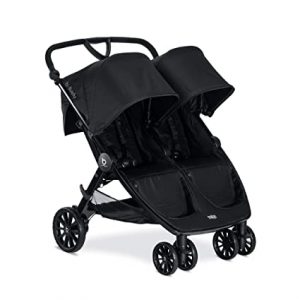 The B-Lively is a three-wheeled stroller that is compact and full of attractive features. It is not exactly lightweight and is compatible only with Britax car seats, which shouldn't be a problem unless you already own a car seat. You will also get a car seat adapter with this product, which is really convenient.
The seats on the stroller have lots of headspace and legroom, and it can be fully reclined to provide optimum comfort for your baby. It is able to comfortably accommodate a baby weighing up to 55 lbs, and it also has a 5-point harness that grows with your baby. Because of its extensive comfort features, many people consider this to be among the best strollers currently available.
This stroller also has an easily accessible under-basket storage where you can keep your shopping items while you're out with your baby. You can access the storage basket both from the front and the rear. At the front, below the legrest, you will find a secret compartment as well. This is especially useful when the seat is reclined and accessing the bag from the rear is not possible.
It is easy to travel with this stroller, as it has a one-handed fold mechanism. Moreover, it has safety features like the linked parking brake that you can engage even while wearing flip-flops. The large canopy protects your baby against the sun and rain, and it is well-ventilated so that your little one doesn't feel suffocated. Its advanced safety features make it one of the best-rated baby strollers in the market today.
Pros
Compact and lightweight build
Retractable canopy
Lots of storage space
Cons
Not as compact as other models
No snack tray or cup holder
3. Baby Jogger City Mini GT2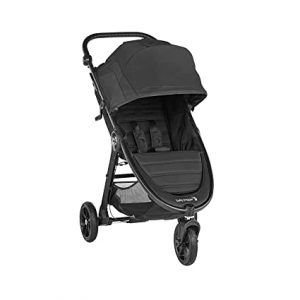 Baby Jogger is known for making some of the best strollers in the market, and it has really outdone itself with this City Mini GT2. It is a drastic improvement from the City Mini GT. This stroller is ideal for infants who are at least 6 months old and have decent head and neck control. The maximum height is 26 inches and the maximum weight this stroller can accommodate is about 65 lbs.
While the GT had nylon fabric for the seat padding, the GT2 has a soft synthetic material that is gentle on your baby's skin. The 5-point harness keeps your baby secure, and it has padded covers that keep your baby comfortable. You can recline the backrest a long way back, allowing your little one to take a nap on the go. The seat can be lowered using one hand, but you will need both hands if you wish to raise it.
The GT2 has a ventilated top that allows your baby to breathe while you're on a stroll. When it's a cold day outside, you can close the vented top because it is retractable.
This stroller is perfect for a kid who's a bit big and tall for their age. It has an adjustable calf rest that allows more movement. So, while your child is sleeping, they can prop their feet up. Many people consider this the best toddler stroller purely due to the comfort features.
Pros
Dual peek-a-boo windows
Deep recline seat
Wheels can absorb shock pretty well
Cons
Need to buy accessories separately
Storage basket is a bit small
4. Baby Trend Expedition Jogger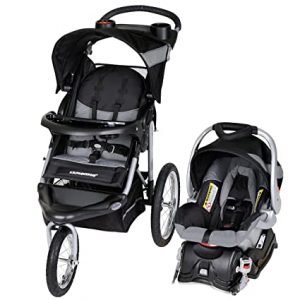 If you are looking to buy the best baby stroller, this device from Baby Trend will surely catch your eye. It has an impressive array of safety specs, with extra padding that provides protection against side impact. The car seat padding is made from EPS foam that has superior energy absorption properties.
Moreover, it also has a 5-point harness that can be adjusted just by pressing a button located near the baby's feet. This stroller is designed for small babies weighing between 5 to 30 lbs. Your little one can comfortably ride in this stroller till they are 1 year old.
The head support pillow is a great feature that provides head support for little babies. The car seat is small and lightweight, weighing only 7 lbs. There is enough space for the baby, and you can always create even more space by adjusting the straps.
Many customers consider this as the best stroller for toddlers, because it allows for a smooth ride. The tires are filled with air and they move smoothly and have better shock-absorption properties. The front wheel has a swivel mechanism that is useful when you need to make quick turns while shopping. It also has a locking mechanism that can lock the wheels when you are not walking.
Pros
Easy to fold and unfold
Large canopy
Plenty of storage space
Comfortable car seat
Cons
The buckles are a bit fussy
Infant support pillow could be better
5. Evenflo Pivot Modular Travel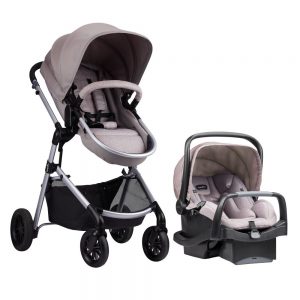 This model from Evenflo is one of the best baby carriages you can find out there, as it uses some of the best technology features with its car seat. It weighs only 8.9 lbs and can hold babies weighing up to 35 pounds. The seat has a reclining base along with built-in levels and an adjustment knob. There is extra protection for side-impact and a place to insert an infant pillow.
The fabric on this stroller is gentle on your baby's skin and it allows air to circulate, keeping your little one cool and comfortable. It also has a big canopy that provides ample protection against the sun and the rain.
Since the stroller is so compact and lightweight, you can maneuver it with very little effort. The front wheels turn easily and are adequately sized to last for a few years at least. There is a large storage basket where you can fit other bags and diapers. You can also access it from the front, which is really convenient.
The stroller is pretty easy to fold because of its light frame. It has reliable wheels, and it offers more than enough comfort features for your baby. Moreover, the car seat adapter also serves the function of a snack tray. Because of its versatility, many customers consider this to be the best baby stroller 2020.
Pros
6 different modes you can switch between easily
Wheels turn easily
Massive canopy
Cons
Requires two hands for folding
Front wheels can sometimes get stuck
6. Graco DuoGlider Double Stroller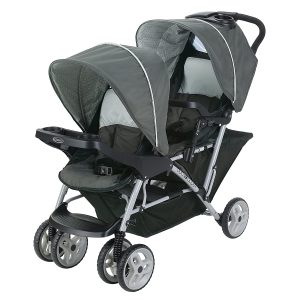 The Graco DuoGlider offers you great durability and value for money, and it is without a doubt one of the best baby strollers 2020. For each seat in the stroller, cup holders and snack rests are included. Also, there are footrests where your baby can stretch out their feet while napping. You can recline the soft, cushioned seats and lay the back seat out flat, so that infants can sleep comfortably.
When your child manages to achieve some degree of head control, they will love to watch the view from their seat. You also have the option of sitting your little one in the front seat, so they can be facing you.
This is an ideal baby stroller to buy if you have twins, as there is enough space for both of them in this stroller. You can even remove the front sun canopy so that the baby sitting in the back can get a better view. You can check on your children anytime you want through the peek-a-boo window. The sun visors on both canopies offer ample shade on a sunny day.
This stroller has some features for the parents as well. There is a storage tray where you can keep your phone and your keys, and a cup holder to keep your drinks in. The size of the basket is huge, and this is really convenient for a shopping trip. Moreover, the stroller has a nice set of wheels with suspension and locking options, making them ideal for rough terrains.
Pros
Huge storage basket
Large, durable wheels
Holds babies securely
Cons
A bit bulky
A bit difficult to maneuver with an older baby
7. Summer Infant 3Dlite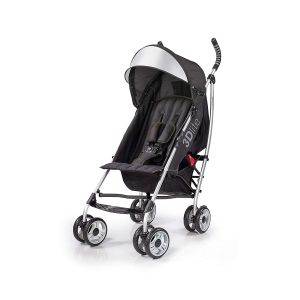 The 3DLite Convenience Stroller has received a lot of points with parents because of its lightweight. Weighing just 13 lbs, you can easily lift it and cart it around. The aluminum frame, in spite of being lightweight, is quite durable and makes the stroller last for a long time. Because of these reasons, it is considered one of the best strollers out there.
It is extremely easy to fold the stroller, and in fact, it takes just three simple steps. You just need to use your foot to push down the lever after lifting the rear handle and then fold the stroller down. After folding, the auto-lock activates and you can easily carry it around using the carrying strap.
The huge canopy of the 3DLite is another great feature that deserves mention. It is extendable, adjustable, and is able to keep out most of the UVB and UVA rays of the sun. However, there is no peek-a-boo window, so if you wish to check on the baby, you need to go to the front.
What's more, the infant buggy can be fully reclined, so your baby can sleep comfortably while you're on the move. The seats are comfortably padded and the material is soft on the baby's skin. The seat is always a bit inclined, which may not be ideal for older babies.
The wheels on this stroller are kind of small and well-suited for store aisles and sidewalks. The swivel-lock mechanism allows you to make sharp turns or lock the wheels when you are traveling straight or standing still.
Pros:
Fully reclining seat
Extremely affordable
Ample storage space
Cons
Not suited for rough terrain
Seat is always slightly inclined
8. Chicco Bravo Trio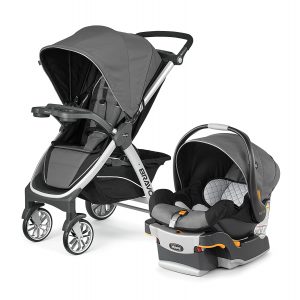 The Chicco Bravo Travel System has consistently featured in the list of best strollers, and for good reason. The system includes a stroller, a car seat and its base, and a parent tray with cup holders. It is suitable for infants as well as toddlers. You can attach the car seat with the toddler seat still on. When your baby learns to sit straight, you can use the regular seat.
This travel system is extremely convenient, because not only are they pocket-friendly, but they do the work of several baby gear by itself. So, you can save a lot of space and money that you would have needed to buy so many different items. The stroller canopy is quite big and provides enough sun protection for your baby.
Chicco Bravo has an adjustable handlebar that makes it easy for you to push it around. You can adjust it in three different positions, so no matter your height, you can still push the stroller comfortably. The push bar has soft foam padding which is gentle to the touch.
There are linked rear-brakes on this stroller that you can engage and release easily, even while wearing flip-fops. Just give a little shake to the stroller to ensure that the brakes are properly engaged.
The front wheels on the stroller are 7 inches while rear wheels are 9 inches. The wheels are able to absorb shocks owing to the four-wheel suspension system. No doubt, this is one of those baby strollers best suited for smooth terrain.
Pros
Suitable for infants and toddlers
Easy to switch between toddler seat and car seat
Adjustable and removable canopy
Cons
Wheels are a bit small
Handlebar has foam padding that is subject to wear
9. Kolcraft Cloud Plus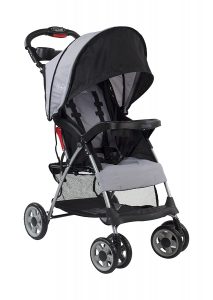 If you are looking for the best stroller for baby and toddler, then the Kolcraft Cloud Plus lightweight stroller might be perfect for you. It has a lightweight frame, weighing only 11.8 lbs, which makes it perfect for day trips. Moreover, there is a huge, three-tiered canopy that offers maximum protection against the harmful UV rays of the sun.
It is extremely easy to fold this stroller, and once folded, it can stand on its own. This allows you to tow it away in the trunk of your car while traveling. The reclining seat has enough space to accommodate a 40 inches tall child weighing 40 lbs. The 5-point safety harness ensures your child remains in the seat even in case of an accident.
There is a large storage basket in this stroller where you can keep your necessities. The removable child tray is a great feature that allows your child to snack on the go. The tray also has a juice box holder and a dual cup holder, while a second tray for parents has an extra storage area and bottle holders.
Overall, this is the best baby stroller for a child who has gained neck and head control.
Pros
Extended three-tiered canopy
Suitable for toddlers as well
One-hand fold
Cons
Storage basket takes a bit of effort to open
Cup holders have little space
10. Bob Gear Revolution Flex 3.0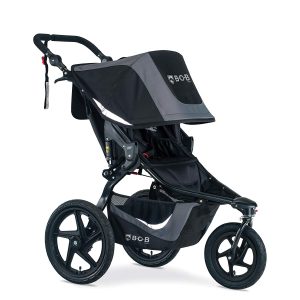 This is a new jogging stroller from BOB gear that has become extremely popular recently. So much so that many customers consider this the best baby stroller in the market currently. First of all, it is easy to fold this stroller. You just need to engage two levers and a pull loop at the rear.
The brakes on this stroller are single-action and there is a plastic pedal located close to the rear axle. It is easy to set the brakes using just one foot. There is enough storage space on the Revolution Flex 3.0, with the storage bin at the rear being accessible from the sides as well as the back. Extra back pockets and passenger pockets inside it provide additional storage space.
The large canopy provides ample shade for your baby. You can even check on them using the peek-a-boo window. Furthermore, the wheels on the stroller are quite smooth with pneumatic rubber construction that allows them to move effortlessly even over rough terrain.
Pros
Easy to push
Large canopy with magnetic closing
Comfortable seating
Cons
Difficult to fit inside a small space
A bit heavy
Factors To Look For When Buying Best Baby Stroller
Baby strollers are practical pieces of gear that make traveling with your baby quite easy. Transporting a child can get quite hectic. This is why companies are continuously adding new features to their products. As such, it is not enough to simply go through a list of products. You also need to consider a few factors that will help you choose the best stroller for you and your baby.
1. Harness
Since you want your baby to be safe and comfortable always, you should pay attention to the harness system of the stroller. Most of the strollers today have five-point harnesses, which secure the baby at five different spots, thus making sure they never fall off their seat. You should also check the latch mechanism of the harness system. It should be something that is difficult for the child to open, but easy for adults.
2. Seat
The seat of the stroller should have enough padding, so that your baby remains comfortable at all times. A removable seat cover is a great feature, as it allows you to machine wash it in case of any stains. You should also check the recline function of the seat. While some strollers provide full recline, others have only partial recline.
3. Storage Space
While traveling with your baby, you often need space to store your wallet, keys, phone, snacks, and baby diaper bag. Hence, it is important to evaluate the storage space while buying a baby stroller.
If you prefer to travel light, you may choose to buy a stroller with minimal space for storage. But most of the models these days have at least a pocket where you can stash your keys and your wallet. Having a cup holder also helps to keep your drinks safe while strolling.
4. Wheels
Wheels decide how easily you can operate the stroller, making them an important factor to consider. Four-wheeled strollers are stable, but they are a bit difficult to maneuver in tight places. You can also buy three-wheeled strollers that are more agile, but a bit costly.
As for the type of wheels, there are plastic wheels that are suited only for smooth terrain. Pneumatic wheels can handle rough surfaces pretty well, but can go flat. The most expensive are the wheels having foam-filled tires, that provide both traction and durability.
5. Price
Strollers are available in a wide range of prices. The more features it has, the pricier it becomes. So, keep your budget in mind and choose the best one with all the features that you need.
FAQs on Baby Strollers
Q1. Can I Carry A Newborn Baby In A Stroller?
Yes, they can, but you should make the stroller seat recline, as newborn babies have no head control and have to lie flat.
Q2. Can A Bumpy Stroller Ride Hurt The Baby?
A slightly bumpy ride should not hurt your baby unless they hit their head, for which strollers have padded interiors.
Q3. What Age Can Babies Sit In A Stroller?
When a baby is around 6 months old, they learn to support their head. At this time, they can sit up in a stroller.
Q4. Which Is Better? A 3-Wheeled Or A 4-Wheeled Stroller?
3-wheeled stroller is suitable for activities like jogging, as they are easy to maneuver on rough terrains. But a 4-wheeled stroller is stable, easily foldable, compact and more affordable. So, your final choice depends on your personal strolling needs.
Make Day Trips Fun With Baby Strollers
Hopefully, the above list of products and buying factors will help you find the perfect stroller for your baby. To figure out the best baby stroller, you need to think about how you will be using the stroller most of the time. You should also test drive a few strollers to figure out how well they perform. Once you find the perfect stroller, you will love showing the world to your little one.