When it comes to choosing the best baby mattress for your little one, you should never judge the same by its cover. Bear in mind, is it is the inside of the mattress that makes all the difference. You will find that some of the best toddler mattresses is made out of foams while the other with springs. Some of them also vary based on construction. 
CHECK THE TOP 10 BEST BABY MATTRESSES NOW!
A quick search over the internet can get mind-boggling at times. That is why we have properly curated our article with some of the best mattresses the market has to offer. In the end, you will also find our buying guide to find the right mattress for your baby. 
Top 10 Best Baby Mattresses
1. DaVinci Dual-Sided Mattress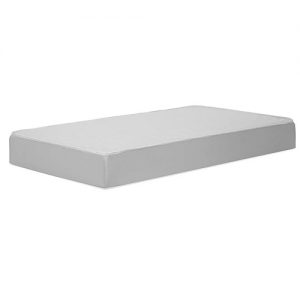 The first product on the list of the best mattress for baby is the deluxe coil dual-sided mattress from the brand DaVinci. The design consists of polyester fiber-fill and 160 coils to give extra and longer-lasting firmness to this mattress. It has a dimension of 52 x 27.8 x 5.5 inches, which easily fits all the baby cribs and toddler beds.    
The best part about this mattress is the Greenguard Gold certification of quality. They guarantee low chemical emission, which helps your children grow safely in a safe environment. The mattress is 100% non-toxic and comes with a hypoallergenic cover that prevents the entry of any allergens to the mattress core.   
The mattress cover is easily washable as it is waterproof. The tear-resistant quality ensures durability. Another great feature of this mattress is its promise of dual-side comfort. You can use the firm side of the mattress for the infant days for your baby's development. And flip to another cushier side for a more comfortable sleep during the toddler days.   
Pros
Double-sided comfort   
Green-guard Gold certified   
Easy-to-clean, waterproof cover   
100% non-toxic   
High-density polyester   
Lightweight  
Perfect size that fits any crib or bed   
Side air vents   
Environment-friendly       
Cons
Few customers are not happy with the firmness as they feel it to be too soft for babies.
2. Graco Premium Foam Crib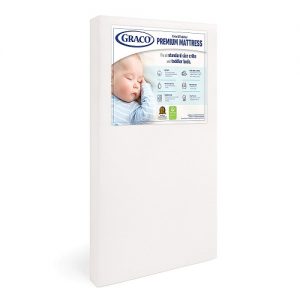 Wondering what kind of mattress is best for a baby? The Graco Premium Foam Crib and Toddler Bed Mattress have every reason to put an end to your search. It is perfectly designed to fit any standard-size crib or toddler bed. The mattress is delivered in a compressed form within a lightweight box.  
It contains high-quality breathable foam material with 5-inches thickness. You have to wait for at least 48-72 hours to completely decompress the mattress. It has a water-resistant lining that keeps your baby dry and clean. The mattress is made of 100% environment-friendly material for your baby's utmost safety. This is again supported by the GreenGuard Gold Certificate. 
The dimension of this mattress is 52 x 27.6 x 5 inches. Moreover, it comes with six years of limited warranty. One more feature that makes it feature as one of the best mattresses is the removable water-resistant, washable outer cover. It helps you maintain the cleanliness hygiene of the mattress. 
The mattress is free from any chemicals like phthalates, lead, or mercury and meets the standards specified for baby mattresses. So, you can completely trust this brand and buy it without any second thought.   
Pros
Portable lightweight design   
Ideal for babies as well as toddlers   
Best quality and features at a very affordable price   
Firm and comfortable   
Complete value for money product   
Cons
It takes a long time to completely decompress   
It requires an extra protector for waterproofing    
3. Colgate Mattress Eco Classica III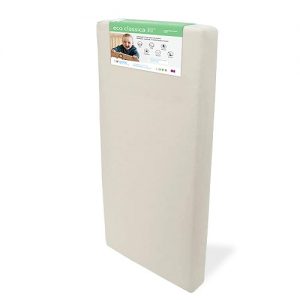 The Colgate Mattress's Eco Classica III is one of this brand's that makes the best baby crib mattress. There are a bunch of reasons to support this statement. First of all, the GreenGuard Gold certification gives the safety seal to the non-toxic material of this mattress. The eco-friendly foam of this mattress is even infused with plant oils.    
This lightweight mattress consists of 6 different layers inside for dual firmness. The firmer side is for the development of your baby, and the softer side will give required comfort to your toddler for deep sleep every time. On top of that, the mattress has a waterproof cover made with certified organic cotton material.    
The built-in quality and seams are extremely durable. This brand is a crib mattress specialist for over 65 years. The mattress measures 51.6 x 27.25 x 6 inches.  All-in-all, it's a great purchase who want to invest in a good quality mattress.
Pros
Very lightweight
Dual usage for a long time   
It is made of harmless material   
It is free from any odor as the foam is fused with natural oils   
GreenGuard Gold certified   
6 years of warranty   
Cons
There is no edge support   
Lacks variation in size 
4. NapYou Dual Comfort Mattress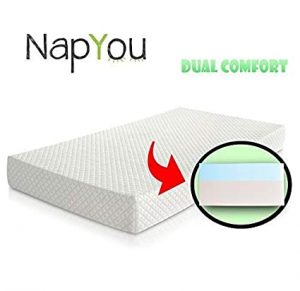 In a nutshell, this mattress is the best baby mattress in 2020, as far as the value for money is concerned. The Amazon exclusive NapYou mattress is a dual comfort mattress that can be used for babies until they become toddlers. It will give proper support to the neck and back of your baby for better development and sound sleep.    
This mattress has a 100% waterproof cover, which is removable and washable in the machine. The cotton blend material is extremely breathable. This product is one of the best mattresses as it is certified by CertiPUR-US. This certificate ends all your worries about the safety of your baby and the durability of the mattress.   
Moreover, this mattress has a dimension of 30 x 9 x 9 inches to provide maximum support. This generic size is compatible with almost every crib. Cradle your baby with the comfort of the mattress for the best sleep ever.    
Pros
Removable cover   
Compatibility with machine washing  
Supportive foam layer   
Can be used for a long time   
Fits every cribs and bed
Waterproof   
Certified by CertiPUR-US   
Affordable and durable   
Cons
Might seem too firm for babies   
Contains little odor after unpacking because of the foam   
5. Newton Baby Crib Mattress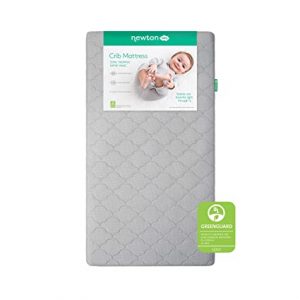 Newton is a brand that is trusted for its safety and breathability. It is a famous brand among customers. The company is known to make the best mattress. The Breath-Thru technology of this mattress allows your child to breathe fresh air without any risk of suffocation. They put your baby's comfort as their utmost priority. The mattress can regulate temperature to prevent sweaty backs due to overheating.  
This mattress is also manufactured, keeping in mind the different needs of babies and toddlers. This long-lasting baby mattress is therefore usable for your baby till they become toddlers. The cover is easily washable at home.  
This is the best mattress for the baby crib as it can be easily fit into any crib with its dimension of 25 x 28 x 5.5 inches. This mattress is the winner of many awards for its qualities. And finally, this has got the GreenGuard Gold certification for low emissions. It contains no foam, springs, latex, allergens, or glue.  
Pros
It is a breathable mattress  
It is durable enough to last till your baby becomes toddles  
Supports machine wash  
The material prevents bacteria and microbe's build-up  
Pediatrician recommended  
100% recyclable  
It is lightweight  
6. Kolcraft Pure Sleep Mattress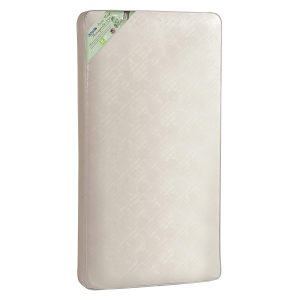 This mattress claims to be one of the best mattresses for a baby for its unique 150 heavy gauge steel innerspring support. It helps your baby have a deep sleep and grow through the years. The surface of the mattress can be wiped with a damp cloth for hygienic cleaning. The waterproof cover and lock-stitched binding resist stains and moisture.  
This is a USA-made product that comes with safety-tested certification from GreenGuard Gold company, which certifies all the best mattresses for babies. The low chemical emissions of this mattress help to maintain a healthy room atmosphere for the baby. This mattress is flammability compliant and also free from the toxic fire retardants. This mattress comes with warranty coverage of 10 long years.  
The mattress is compliant with all standard size cribs and bed for toddlers. The measurements of this mattress are 51.63 x 27.25 x 5 inches. In addition to all these, the Kolcraft Company promises its customers excellent service and support for any kind of assistance.  
Pros
Waterproof cover and lock-stitched waterproof binding  
Quality and safety assured by GreenGuard Gold certificate  
ensures durability, support, and comfort  
Strong surface for babies and a soft side for toddlers  
It is hypoallergenic  
The mattress is easy to clean  
It comes at an affordable price and fits all standard-size cribs  
Cons
Extra bouncy and springy for babies  
Noticeable chemical odor at the time of unpacking 
7. Dream On Me Mattress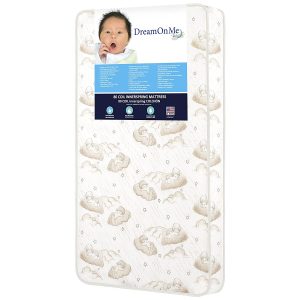 The list of the best baby mattress includes the Twilight Spring Coil Mattress from the brand Dream on Me. This lightweight mattress has 80 interwoven coils that are heat tempered and can provide excellent support for the development of your baby. It has two layers of cushioning for comfort, which is hypoallergenic. This feature prevents any allergic reaction to your baby's skin, thus, making the mattress safe for the baby. 
It is again a GreenGuard Gold-certified product. This is the highest safety certificate. This certificate guarantees an emission-free healthy home atmosphere for your child. It comes in a dimension that is 52 x 28 x 6 inches. So, it can fit into any baby crib. Moreover, it has a protective polyurethane foam wrap that provides a luxurious sleeping experience to your baby on its both surfaces.   
The mattress comes with a 30-day warranty plan. It has many other amazing features which include, the foam insulating layer and a layer of fire-blocker. Not only that, but it also has a lock-stitched waterproof binding that takes care of the durability of this mattress.    
Pros
Affordable price   
Comes with a Waterproof cover
Fits into any standard size crib   
Easily cleanable surface   
Nice prints   
Safety certificate   
10-years manufacture warranty   
Airflow pockets   
Cons
Both the surfaces are too soft for infants   
No dual surface option for babies and toddlers 
8. Delta Children Serta Perfect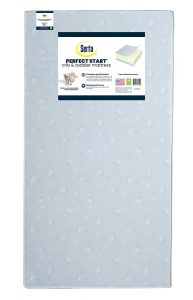 This is the best mattress for baby to allow your baby to have an uninterrupted sound sleep for long hours. The key features of this product include the proper firmness and comfortable support to both babies and toddlers.   
Having the dimension of 52 x 27.5 x 5 inches, it can fit into any crib. The waterproof cover lets you wipe out any dirt easily. It has got the GreenGuard Gold certified safety for your baby. It is free any harmful chemicals allowing your child to healthy breathing. And finally, it comes with seven years limited warranty.       
Pros  
Dual sleeping support   
GreenGuard certified   
Easy clean with a waterproof surface   
Convenient sides with square corner support   
7-year warranty   
Cons
There no airflow vent   
The polyester material can make the mattress warm in hot weather conditions
9. Dourxi Crib Mattress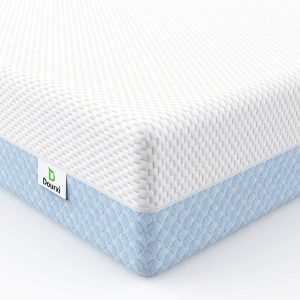 Comfort and safety come first when it comes to your little baby. Most of the development of any human being happens in the first few former years. So, proper rest and enough sleep in a safe environment is the most important thing to look for. This is why the Dourxi crib mattress comes next in the series of the best baby mattresses.    
This mattress has a dual-sided sleep system. That means it has a firmer side surface for babies and a softer side surface for toddlers. Firm mattresses are considered the best for your baby's spine development, and this mattress offers the same.
This mattress is made of organic cotton, which is 100% free from toxins and chemicals, which assures the safety of the breathing of your baby. The safety level of this mattress is further certified by both GreenGuard Gold and CertiPUR-US.   
The extremely lightweight mattress measures 58 x 28 x 5.5 inches that will fit any baby crib or toddler bed of standard size. Another noticeable feature of this mattress is that it is waterproof, and comes with a hypoallergenic cover. Waterproofing helps to keep the mattress germ-free and makes it very easy to clean.   All in all, an easy to maintain and good quality mattress for your baby.   
Pros
Dual-sided sleep system   
Certified by both GreenGuard and CertiPUR-US   
Removable and washable cover   
10-year warranty   
Affordable price   
Made of organic cotton   
it doesn't have an odor   
Cons
Takes some time to fully expand   
The cover is only water-resistant and not waterproof   
10. Dourxi Crib Mattress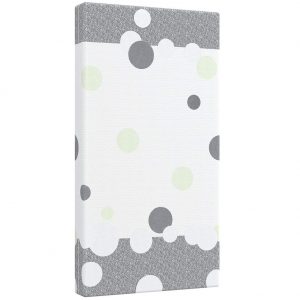 The last mattress in our list of the best baby mattress is the Dourxi 3-layer crib mattress. It also offers dual-side sleeping options that provide great comfort and support. The size of this mattress is 52 x 27.5 x 6 inches. It can be set into any standard size cribs and bed. The CertiPUR-US certificate gives a seal to the safety of this product.   
Other important features include a removable and washable outer cover that helps in maintaining a cozy and fresh environment as well as hygiene for your baby. The firmness of this mattress takes good care of your baby's tender bones and their development. As this mattress is free from any chemical emissions, there is no chemical smell too. But you have to give the mattress up to 72 hours to inflate properly before the first use.   
It has 3-layer foam support. Also, it has a temperature regulating feature to avoid the sweaty backs of your child in a hot environment. The company offers a 100-day trial and a 10years long warranty with this mattress.   
Pros
Firmness that supports your baby's healthy development   
Washable cover   
No chemical odor   
100-day trial along with a 10-year warranty   
Dual side sleeping   
Convenient size   
Low emission safety certificate  
Cons
Takes a long time to inflate fully   
Factors To Look For When Buying Best Baby Mattress
Once you are done finding the right crib for your baby, it is important that you start looking for the best toddler bed mattress. Since finding the right baby mattress can get tedious at times, we have brought together a few crucial factors that you need to look for while buying a mattress for your baby.
1. Quality
There is no point in arguing that quality should be your number one priority. When it comes to using the mattress for a longer duration of time, cheap mattresses don't stand any chance.
One of the best ways to find poor-quality mattresses is through their thin coverings and easy-to-wear-out edges. Quality mattresses, on the other hand, are thicker as well as resistant to any puncture. In case it is an innerspring mattress, it has better gauge steel. That being said, you can also find denser foams within quality mattresses. 
2. Price
Now, we are not certainly encouraging you to break your bank for the sake of buying a quality mattress. But, at the same time, if you want premium features, you need to be prepared for such an investment. In fact, expensive mattresses tend to be firmer. Bear in mind, for a standard quality mattress, the average costs go to almost $50. So, keep that in mind while getting the best toddler bed mattress. 
3. Safety, Fit, And Size
A firm baby mattress is not just a luxury but a necessity. Studies have shown that firm mattresses can significantly lower the chances of SIDS (Sudden Infant Death Syndrome). When it comes to the standard size of the mattress, it all comes down to 51 5/8 inches to 27 ¼ in dimension. As for thickness, it should never be more than just 6 inches. 
All the mattresses that we have mentioned within the list abide by the same standard. It should also be able to fit perfectly to the crib. The best way to check for the perfect fit is by using the two-finger test. If they go between the mattress and the edge, chances are you need a larger one. 
4. Warranty
Warranty is something we always tend to overlook when it comes to baby mattresses. Although a quality mattress is going to last longer than you can anticipate, you still need to count the warranty. It ensures that if anything goes wrong with the mattress, you can easily opt for changing them. 
5. Cover
Every single baby mattress comes with its own sets of covers. While in some, you can find them made out of fabric or even vinyl. Fabric covers tend to be more breathable than the latter one. But, there are some vinyl covers where you can find ventilation holes. These are something that can really come in handy at times. For example, for example, vinyl covers are less prone to punctures as well as any leaks, strains, or tear. 
6. Certification
One might argue that what has a certification to do with baby mattresses. But, in reality, two of the most sought out certification include CertiPUR-US and Greenguard Gold. This certification ensures that mattresses don't have any harmful chemicals or metals, which can pose a potential threat to the baby. 
Buying Best Mattress Is Certainly Important
It is important to understand that the safety of your baby always comes first no matter what. While shopping for the  mattress for your baby, make sure to prioritize the needs of your baby. Even though a mattress has good ratings, your baby might feel uncomfortable within the same. 
Going through all the above-mentioned products, you can certainly find everything from different price ranges to build material. Just make sure to get a preference for the quality over a price range. You can either stick to the products that we have mentioned above, or else you can also choose other products, but make sure that you stick to the quality guidelines.