The demand and awareness regarding baby food makers is growing by every passing year, as more and more parents are shying away from the shop-bought baby food that carries added preservatives, color, chemicals and sugars that are harmful for our children.
So, parents now prefer to make their own healthy baby food, after all, every parent wants to give their baby fresh and nutritious food.
So, the best option lies in buying a food maker for babies. But how does one know which is the best baby food maker out that that can help you prepare delicious baby food easily and within minutes?
Well, the truth is that it can be difficult to make choices as there are so many brands and models of baby food makers available in the market.
They come with different capabilities and features, and each one claims to be the best baby food blender.
CHECK THE TOP 10 BABY FOOD MAKERS NOW!
Get rid of those confusions and remove all that guesswork, and all you need to do is go through this comprehensive guide on baby food makers and make the right choices for yourself.
Top 10 Best Baby Food Makers
1 . Baby Brezza Set


Making homemade baby food is not at all a complex task, provided you have the Baby Brezza Baby Food Maker.
The food maker is not only convenient and easy to use but is a complete system that will steam and blend the food automatically with just a light push of the button, and within minutes, you will have the best baby food ever!
The product cooks and blends for you and includes a 3.5 cup capacity bowl, three reusable food pouches plus filling funnels for easy maneuvering.
Now you can make, store & serve baby food, including purees and mashes with total ease and convenience.
You can open the system completely for easy cleaning, and the best part is that the baby food maker is dishwasher-safe.
Enjoy a 1-year limited warranty with the product from the leading brand Baby Brezza.
Pros
Award-winning baby food maker
Cooks and blends
3 settings to steam and blend
Easy to use panel
1-year limited warranty
2. Elechomes 8 In 1 Baby Food Maker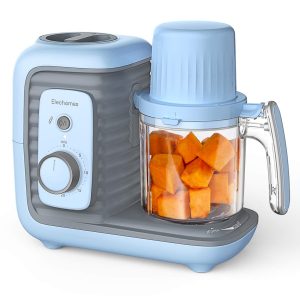 Another model of the best baby food maker is the multifunctional baby food maker with powerful features.
The one compact device can prepare healthy homemade baby food in time.
You can use it to steam, reheat, and defrost, mix or blend. You can even cook different foods at once because of the 2-layer basket design.
The easy-to-operate food maker indeed makes everything easy and is made of safe materials.
The product does not compromise on the safety of the baby and is free of phthalates, BPA, and is completely lead-free.
The baby food maker is easy to clean and it is dishwasher safe. This is just perfect for all those busy moms on the move as it is a time saver and can be cleansed with ease.
Take advantage of the recipe booklet that comes as a bonus and prepares some healthy and delicious recipes for your baby.
Pros
The cute and stylish shape
Compact size and easy to use
Multifunctional food maker
2-layer basket design
Bonus recipe booklet
Cons
It May take time to get used to it
3. Ventray BabyGrow All-In-One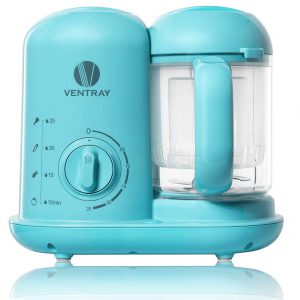 Ventray BabyGrow food processor has everything you need. Now you can plan handcrafted food for your baby and give him healthy and nutritious food.
The all in one baby food processor will steam, defrost, and blend for you. The healthy steaming ensures that all the soluble vitamins, like vitamin C and other nutrients, remain intact and what you get is a healthier food that is easy to digest by your baby.
Go ahead and prepare an array of meals from vegetables, fruits, or meats for your baby based on his preferences and nutrition.
The adjustable timer allows you to adjust the time up to 20 minutes, and the gadget is very simple to use and clean as the parts are easily detachable.
The product includes measuring cup, spatula, steaming basket, and is backed 12-month manufacturer's warranty and 1-year warranty.
Pros
All-In-one baby food maker
Made from BPA free materials
Built-in timer
Compact design
Easy to clean
1-year warranty
4. Papablic All-In-1 Baby Food Maker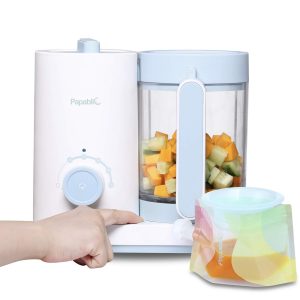 The all-in-one baby food maker from Papablic is indeed the best food processor for baby food.
The multipurpose baby food processor does everything for you, cook, blend, reheat, and defrost and help you make healthy food for the baby.
Use high-quality reusable food pouches and prepare baby food portions and store, freeze or heat them as and when you need them.
The complete baby food mills system allows you to easily prepare starchy foods such as quinoa or rice.
The baby food maker is made from baby-safe materials, and only high-grade materials that are safe and non-toxic is used to make the components of the baby food maker.
Moreover, it is easy to clean and all its parts are dishwasher safe. The in-built timing function allows you to steam the pureed food for up to 25 minutes, and one can use clear guidelines and follow standard precision to prepare the food and set the time.
Pros
All in one baby food maker
Cook, blend, reheat and defrost
High-quality reusable food pouches
Professional-grade materials
Large water reservoir
In-built timing function
Cons
The steam cup should be metal
Steam basket if small
5. Baby Brezza Glass Baby Food Maker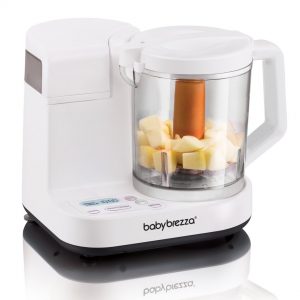 Go ahead and make healthy, homemade baby food within minutes, thanks to the amazing Baby Brezza baby food maker.
The food maker will steam and blend automatically with just a light push of a button and all in one bowl. This is the only food maker that comes with a glass bowl with a large 4 cup capacity.
As the bowl is made of glass and is BPA-free, it means that you need not worry about any harmful chemicals getting inside your baby's food.
The LCD control panel is easy to use and carries 3 cook settings for steaming and blending. As the components of the baby food maker are removable and dishwasher-safe, it is simple and easy to use and clean the food maker.
You can enjoy peace of mind as the product is backed by 1-year limited warranty and great customer care. Pregnancy & newborn magazine has listed it as the best puree maker and it highly recommends it as well.
Pros
Amazing food maker
Automatically steams and blends
Large glass bowl
Dishwasher-safe
1-year limited warranty
6. Infantino Baby Food Maker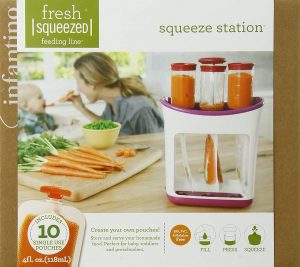 Infantino makes another model of the best baby food maker in the market. The Squeeze Station makes it simple and easy to fill your own pouches.
You get an easy grip because of the soft rubber press, and the product rests firmly on nay surface excuse of the nonskid base.
You can now makeup to 4 ounces of puree and store them in the disposable pouch with a clear window and child-safe caps. Those products are BPA, PVC, phthalate-free as well as freezer safe.
The product includes one squeeze station, three tubes, one press along with ten squeeze pouches.
It is easy to work with, store and clean the squeeze station, which is dishwasher safe.
Go ahead and create healthy and fresh preschool lunch or dinner for your babies and toddlers.
Pros
Wonderful baby food maker
Convenient and easy to use
Easier grip and sturdy base
Easier to manage and clean
Cons
Food chunk can get stuck in the cylinder
7. TCBunny 7 In 1 Baby Food Maker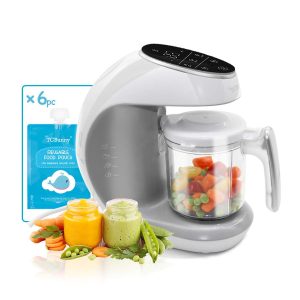 With seven powerful functions namely steaming, cleaning, warming, stirring, chopping, defrosting, and disinfecting, this is indeed an amazing baby food.
This is an organic food maker that allows you to make nourishing homemade meals with a press of a button.
You can finely blend all those fruit and vegetables, meat, and pulses and get chunkier or finer textures based on your baby's preference and needs.
This food maker allows you to plan and save valuable time because of the larger 20 oz capacity cup in which you can prepare 3 meals at a time.
The food maker is manufactured with materials that are FDA approved and boasts of innovative features like protection from overheating and anti-dry function, which makes it the safest and best product for your baby and your family.
Now you need not worry about food sanitation every time as the machine will be clean itself and is dishwasher safe.
Pros
Seven powerful functions
Digital display panel
Auto-cleaning feature
Larger capacity cup
FDA approved materials
8. Beaba Babycook 4 In 1 Baby Food Maker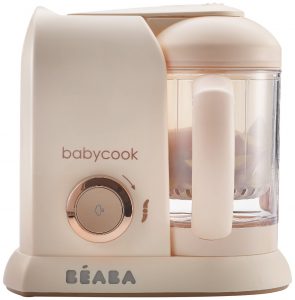 BEABA Babycook is designed to prepare toddler food in 15 minutes and is considered among the best baby food makers because of its quality and speed.
Compatible with a 120V earthed socket, one can use the large graduation 4.7 cup bowl to prepare fruits, vegetables, meat, or fish.
BÉABA is a brand that is trusted in the line of baby food preparation products and carries a long history of creating innovative products.
The food processor is designed and developed for practicality and convenience, and its Auto-shut off feature means that the food maker will shut itself off.
The product is BPA, Lead, and Phthalate free and comes with a mixing lid, spatula along with a coking basket and recipe booklet included.
Buyers are very happy with the baby food maker and find it simply amazing to prepare fresh food for the baby.
Pros
Higher practicality and convenience
One-handed operation
Patented steam heating
Designed in Frances
Cons
Needs a separate water cup
9. NutriBullet Complete Food-Making System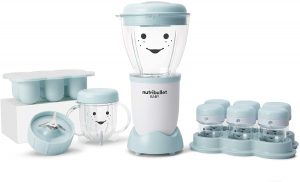 NutriBullet Baby Food Prep System allows one to prepare fresh baby food in minutes from scratch and stroke it.
Every new parent wants to give his little one nutritious food, and this is where this amazing food processor steps in and works as a complete food pureeing and storing system.
Available at a lower price, now you can make fresh, wholesome baby food with wholesome ingredients within minutes.
Take advantage of the option to prepare, store, and freeze f baby food or grab-and-go convenience. What makes it fast and easier to clean up is that all its components are dishwasher-safe.
The product is BPA-free and made of non-toxic and super-durable plastic. What is included is a batch bowl, storage containers, and a silicone tray.
Pros
Amazing food processor
Complete food pureeing and storing system
Available at a lower price
Date-dial feature
BPA-free
Dishwasher-safe
Cons
Customer care could improve
10. Digital 2-in-1 Baby Food Maker Machine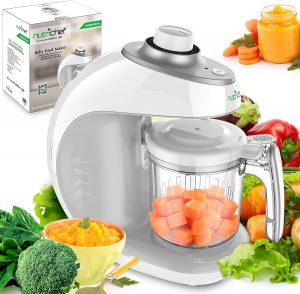 The digital baby food maker comes in an elegant modern design, and it is indeed one of the best baby food makers when compared to its counterparts.
Now you can make the perfect puree with the right consistency and blends foods of all types, thanks to the stainless-steel blade and a soft button pulse for blending.
Use the adjustable steam timer to prepare steamed vegetables and meat.
All the components of the baby food maker are removable and dishwasher safe, and that makes it easier to clean.
The food processor is laboratory tested for food-grade safety and can cook delicious puree, prepare soft chopped meals, and help you make homemade baby food within minutes.
The hassle-free control settings and simple electric plug-in design make it easier to use and operate the food maker.
Pros
Elegant modern design
Efficient food maker
Adjustable steam timer
Dishwasher safe
Soft-touch button activated
Auto power-off
Laboratory tested for food-grade safety
Factors To Look For When Buying Best Baby Food Maker
Choosing the right food maker for your baby is a very responsible decision as what kind of nutrition you provide to your baby in those first few months is of crucial importance.
Therefore, one should be very careful about their choices and buy the best baby food maker for their little on.
Here are a few aspects to keep in mind when looking for a baby food maker:
1. Different Types Of Baby Food Makers
Before you start hunting for the best baby food maker, you should know the different kinds of models and makes available in the market, so as to make a well-informed choice because there are several types of food makers.
You will come across a huge variety in both manual or electric versions. Focus on your needs and what kind of food maker will serve your needs better.
While manual baby food makers are less expensive, but it is the electric version that is faster and efficient.
Moreover, you need to make more efforts to use the manual ones. For better understanding here we have listed different types of food makers for babies:
The blinder model- The food maker works like a food processor and can make a smooth puree out of the solid foods like fruits and vegetables or even semi-solid foods like precooked foods.
The steamer model- Steaming is very popular among parents when making baby food as the process locks in essential nutrients. Moreover, steaming cane easily soften hard vegetables, like broccoli and carrots. Alter, they can be easily mashed or pureed for the baby to consume.
The masher model- This is a handheld device that is used to mash food into smaller bits for easy consumption. However, you may need to exert more effort to mash a large amount of solid food.
The 4-in-1 model- The food maker based on the 4-in-1 model is capable of carrying out multiple functions such as steaming, blending, defrosting, and reheating. This is a great option for busy parents or working moms who want to prepare baby meals faster and without any clutter in the kitchen.
The One-step model- The one-step model, unlike the 4-in-1 models, are programmed to carry out the food making process for the baby with just one press. You can plan ahead of time and pick the desired food process and insert the raw veggies or fruits.
The Food Mill model – You will find both manual and automatic options with the food mills, which are simply great for working with softer foods. Choose the best baby food maker based on your needs and preferences.
2. The Quality
Quality is very important, and the best baby food processors out there are made of strong and unbreakable materials.
It would be very dangerous if you buy a cheap quality product for, if it breaks or ends up in baby's food, it could be very risky.
3. All In One Unit
While some food makers are just basic, others can do almost everything, such as blending, grinding, steaming, and lots more.
Thus, look for an all-in-one unit as they not only save your precious time and effort but are more convenient.
The unit should allow you to use predetermined settings to achieve different consistencies.
4. The Motor Power
The size and strength of the motor would give you an idea as to what you can possibly do with the food maker.
Small motors are more suitable for working with pureeing cooked fruits.
However, if you need to extract more work from your baby food maker, you need something with more power.
So, know exactly what kind of food you'll be preparing and how frequently you plan to use the food maker.
You may not need the heavy-duty option if you use the appliance occasionally and work with fruits and vegetables mostly.
5. The Size And Weight
How and where you plan to use the food maker would influence the size of the food maker you buy.
For example, if you plan to use it at home, the size might not be an issue. However, if you plan to carry it with along, you should look for something compact and lightweight
6. Safe And Easy To Use And Clean
The best blender for baby food is the one that is easy to use and clean. Having a dishwasher-safe food maker is indeed very convenient and thus look for a food maker with removable parts that can be easily washed in the dish maker.
7. Free Of BPA
Most food storage containers and makers are made of plastic parts that may carry BPA or Bisphenol A, As BPA is potentially harmful to humans, it is essential to look for a BPA free product when choosing a food maker for babies.
Safety is of the utmost importance when it comes to baby food makers. Therefore, check the appliance and if it is made with FDA-approved materials and meets the safety standards. The best baby food maker is labeled free of BPA and phthalate.
8. The Cost Factor
While most of the baby food makers are affordable, some can be expensive depending on their features and quality or brand value.
Just like any other product, the best food maker need not be the most expensive one.
Keep in mind that you will need the baby food maker just for the first few months. Hence, there is no need to splurge your money on the most expensive model with features that you really do not need.
Do not get carried away with the options and features available in so many products on the market.
FAQs on Food Makers
Q1. What Is A 4-In-1 Baby Food Maker?
A 4-In-1 baby food maker is a single unit that carries out a number of functions such as steaming, defrosting, blending, and reheating.
This is a great option for those looking for a versatile food maker for babies that can help them make the food faster and without any clutter.
Q2. How Does One Store Homemade Baby Food?
Once the baby food has been prepared, one can split the food into separate serving sizes and stores.
Follow the instructions carefully as the food can be stored either in the refrigerator or the freezer.
While the frozen servings can last for several months, the refrigerated food will last you up to 48 hours. It is a good idea to use silicone pouches and trays for storing baby food in the freezer.
Q3. What Are The Benefits Of Using A Baby Food Maker?
There are several advantages of using a baby food maker, and this is the reason behind their growing popularity and demand.
First of all, the baby-related products sold in thru market do not come cheap, and you really are not sure as to what goes inside them even if they are labeled.
Those based on organic and pasture-raised ingredients are even more expensive. Some products may carry excess sugar or salt or additives.
When you have a baby food maker at home, you use fresh ingredients and know exactly what you are feeding your baby.
As the food making process involves steaming and blending, you lock in more nutrients such as vitamins and minerals that the baby needs to grow and develop.
You can try new flavors and introduce your baby to new herbs and spices.
Q4. What Are The Possible Downsides Of Making Baby Food At Home?
There can be some disadvantages of making the baby food at your home and on your own.
First of all, you need to take out some time to plan and prepare the food, and that can be difficult for working mothers.
At times, it may not be convenient to trail with homemade baby food, and as these foods tend to spoil fast, they need to be refrigerated or consumed within a day. The baby might not like the gross taste of the fruits and vegetables.
Having said that, homemade baby food is anyway a lot healthier than the processed foods you get in the market that carry sugars and preservatives.
All you need to do is make some efforts to find the best baby food maker that can help you make the baby food quickly and easily.
Still, one should try to prepare fresh baby's meals as it contains more nutrients.
Q5. Which Are The Top Brands That Manufacture And Sell Baby Food Makers?
Although there are many well-known brands that sell baby food makers, there are a few that carry a competitive advantage, and these include names like Elechomes, Baby Brezza, Ventray, Papablic, Infantino, TCBunny, BEABA, NutriBullet, Oxo Tot, Baby Bullet, Ninja Personal Blender and more.
Always buy the best baby food maker from the leading brands in the market.
Q6. What Are few Aspects To Avoid When Buying Baby Food Maker?
Some aspects that you must avoid when buying the best baby food processor are:
The smaller mouth of the processor which make it difficult to use
The small capacity of the machine that limits future use and not suitable for prepare large batches of food
The low-profile blades and with limited sizes
The processor is not very powerful and isn't great for working with meat or crunchy stalks
If the timer is missing, it gets difficult to gauge how much time is left
Getting used to the processor takes a little practice and difficult to figure out
Some users may find the processor noisy as the motor is too loud
The included pouches are not reusable, and it is not easy to find replacement parts
Invest In A Multi-Functional Device That Is Known for Convenience & Performance
Buying the best baby food maker need not be a daunting task anymore.
Shop for a quality product based on your new-found information on this page and just follow the guide to make confident choices.
Keep in mind that it does take lots of time and effort to find that perfect food maker for your baby.
However, we are sure that the useful information will steer you in the right direction and help you buy that special baby food maker that is just perfect for your needs and falls within your budget.
Go ahead and prepare some great home-made healthy foods for your little one and enjoy the benefit of knowing what you are feeding your baby.
After all, nothing can match the convenience and benefits of preparing your own home-made purees for your baby and give him the fresh nutrition that he needs for his optimum growth and development.